Basic Boarder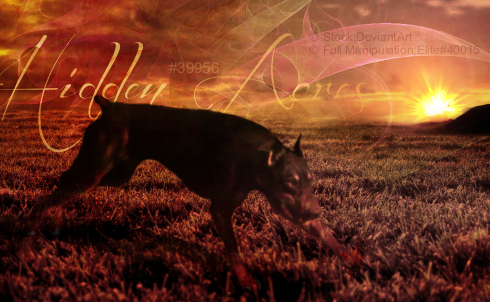 Welcome to Hidden Acres Kennels. Here we breed the amazing Doberman Pinscher. We have bred them awhile back and are now giving them a try again.
October 21st: Well I'm back! And I will be breeding the magnificant Doberman again. A lot of people have left and I know that Hopedogs would like a serious Doberman breeder so I decided to do it. Really excited to be back and have time on my hands to do so.

Ears: Medium
Eyes: Any but albino
Teeth: Good
Nose: Medium
Elbows & Hips: Excellent
Coat Color: Black, Red, Blue, Fawn, Liver, Brown
Coat Pattern: Tri-Colored, Bi-Colored, Boxer Markings, Brindle, Saddle Colored
Coat Length: Short
Tail: Short
Height: Large
Weight: Normal
Behavior: All positive

Bases: $150
Meets Standards
0-6: +$25
7-12: +50
Genetics
Lower than 50: -50
51-60: +50
61-70: +75
71-80: +150
81-90: +200
Qualities & Faults
1 Qualitiy: -25
0 Qualities: -50
1 Fault: +25
0 Faults: +50

Registered Dogs:
Judges Favorite Owner:
Show Champion:
Best of Breed:
Reserve Champion:
Upcoming Contender:
Placed:


-Keep my Tag (I will be keeping a good eye on all puppies that I sell, If you don't keep my tag I won't sell a puppy to you again. I will give you one warning). I also keep other people's tags so no one has to worry about me taking them off. I will even keep them on if I got them from the shelter.
-Don't let one of my puppies go to the shelter (I will buy a puppy/dog back if you don't want it anymore or just don't breed them.)
-Don't alter a puppy and then let it go to the shelter (I worked hard on breeding them. I don't care if you alter them but if you let them go to the shelter it does bother me. If I see that you won't get a puppy again.)
-Don't buy a puppy from me then sell it for a higher price. If I see that I will buy the puppy and not sell one to you again.
-Please be kind. I don't like people who get all sassy at me and back talk. If I have a dog of yours and you want it back polietly ask me. If you will politley ask me then I will give it back. If you don't ask poliety chances are I will keep the dog and ignore you.
Litters
None
Upcoming Litters
None
Future Breedings
None

Hey Guys! My name is Brooklyn. I'm 14 years old and have been on simdog for a year now. I haven't been on this account for a year but I have been on others. One of my accounts is Weleski Chick26. My best friend is Girlygirl25 (In RL).
I live in West Fargo, North Dakota. I live in town. I have no animals. I had a couple of fish but that was it so I don't know anything about showing, breeding, or careing for a dog in RL. I have three brothers and no sisters. Jake, Luke, and Micah. Jake is 11 and Luke and Micah are 7. They are both twins.
I play softball from spring to summer. I really want to move to Arizonia. I want to become a peditriation.
If you have any questions or would just like to chat PM me.